We want new team members to join us in KYOTO & TAKAYAMA!
"Bridging Japan and the World!" At AJ INTERBRIDGE INC.,
we not only want travelers to experience the beauty of Japanese culture, and appreciate the wonders of Japan,
but we want to spread the uniquely Japanese hospitality culture of "omotenashi" throughout the world.
As Japan continues to grow as an exciting travel destination,
we need the talented skills of new team members from all over the world to help welcome our guests!
If you would like to get a start in the travel & hospitality industry, or further your career path, join the AJ INTERBRIDGE INC. team.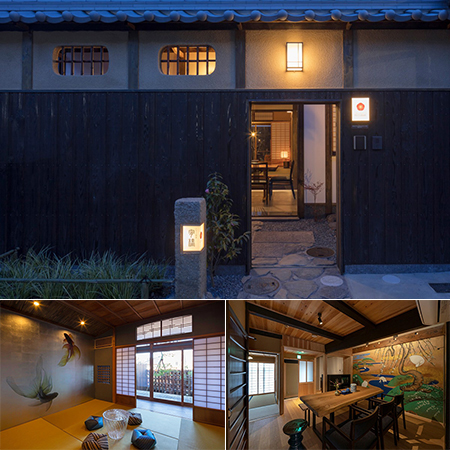 People we want
No prior experience in the travel or hospitality industry is needed.
As long as you are willing to put in the hard work, we will train you with the skills needed to excel in this position.
First impressions are important, so we need bright, outgoing, and friendly staff!
Forward-thinking, and team-oriented staff members.
Flexible, and fast thinking team members. Everyday is different, and every guest who you meet is someone new.
Interested in creating, and sharing new ideas to help grow the team and business as a whole!
Application Requirements
THE POSITION

GUEST SERVICES STAFF at one of our accommodation properties in Kyoto & Takayama City.
We currently manage 1 mid-sized hotel (20 rooms), 3 boutique hotels (under 10 rooms), 1 inn, over 60 individual machiya properties, 2 larger boutique hotels, 2 cafes, and more. You will have the opportunity to work at one of these reception desks in Kyoto or Takayama as a guest service staff, while overseeing guests during their stay with us.

JOB DESCRIPTION

Daily Task

Guest Service assistance via telephone, email, in person.
Communicate with guests (from Japan and all over the world) on a daily basis.
Ensure guest satisfaction for Guests before, during, and after their stay (concierge services, special requests, etc)
Staff-Selected Recommendations: Create itineraries based on guest needs (restaurants, sightseeing attractions, local events, staff recommendations, etc.)
Ensure reservations are in order, organize and prepare for future guests.
Create a friendly and welcoming environment, and maintain an organized and clean space ready to welcome guests and customers.
Share and execute new ideas so guests leave with a great experience, and wanting to return to Japan!

REQUIREMENTS

ENGLISH: Business-level or Native-level (Speaking)
JAPANESE: Advanced-Conversational Japanese level OR higher (Reading & Writing)
Applicants will be required to answer telephones & respond to emails in Japanese and English. (Any other language skill is a plus!)
Basic Computer skills necessary (Daily tasks include working with computerized booking and payment system)
Ability to work in both a team environment and independently
Natural ability to communicate with others (speaking, writing)
Prior experience in guest services / customer service

POSITION (We have 3 different Shift Styles)

Full-Time Day Staff (Rotating Shifts, 2 days off/week)
Full-Time Night Staff (Rotating Night Shifts, 2 days off/week)
Full-Time Weekday Staff (Mon~Friday, Sat & Sun off)

SALARY

185,000 yen~251,000 yen/month
*Salary is negotiable based on experience and skill
*Salary includes 20 hours/month overtime allowance (Overtime Allowance will be included in salary whether you work overtime or not)

TRAINING PERIOD SALARY: Salary minus overtime allowance (No overtime during training period)

BONUS SALARY:

Semi-Annual Bonus Salary(Bonus Salary is based on Performance)
Twice a year in【July & December】

SALARY RAISE:

WORK HOURS

Work 8~9 hours/day
1 hour break / work shift
WORK DAYS: 5 days / per week
DAY OFFS: 2 days off /per week
Night Shifts are available for staff who request it (21:00 – 8:00).
*Bonus Night Shift Salary will be given to staff who work night shifts.

OTHER DETAILS

FULL VISA Support (We have successfully supported multiple foreign staff members with their visa)
FULL BENEFITS (社保完備): Health Insurance, Employment Insurance, Pension
Annual Paid Holidays
Paid Maternity Leave
Employee Accommodation Discount
Commuting/Travel Allowance (max. 30,000 yen/month)*
Family Allowance for families with Dependents Provided*

※Certain restrictions will apply. Please contact us for more information.

More than 1 position available if qualified candidates apply.