NEWS、MEDIA /  2020.02.14
MACHIYA RESIDENCE INN Kyoto & Kanazawa – New Chinese Websites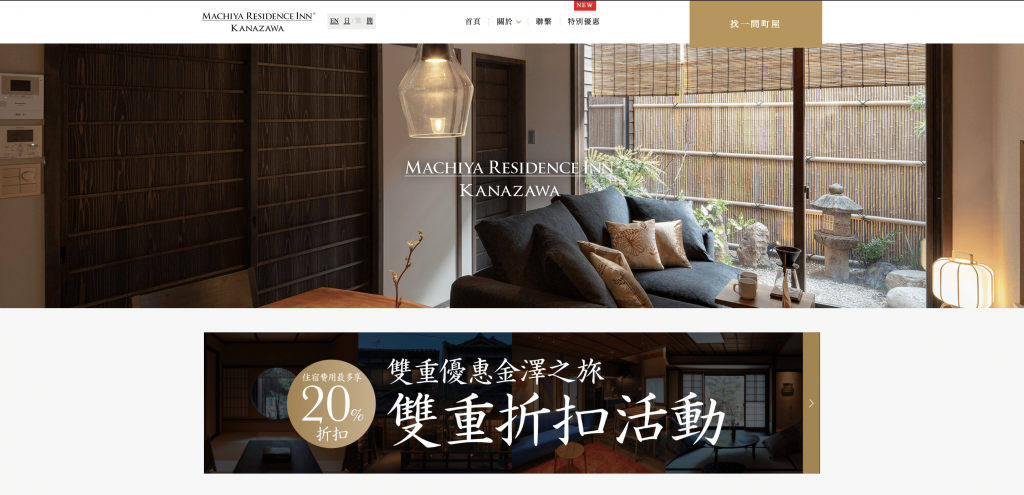 AJ INTERBRIDGE INC. has recently revealed 4 new Chinese-language websites for our private machiya holiday house brands, "MACHIYA RESIDENCE INN Kyoto" & "MACHIYA RESIDENCE INN Kanazawa".
Created to appeal the MACHIYA RESIDENCE INN brand to a wider audience, each website now boasts 4 languages, with plans to add more languages in the near future: Chinese (Simplified), Chinese (Traditional), English, and Japanese.
We look forward to welcoming more guests from around the world to stay in our traditional machiya holiday houses, as travelers experience another unique side of Japan through our MACHIYA RESIDENCE INN accommodations.
MACHIYA RESIDENCE INN Kyoto (Private Machiya Holiday Houses)
Chinese (Simplified) Website:https://www.kyoto-machiya-inn.com/zh/
Chinese (Traditional) Website:https://www.kyoto-machiya-inn.com/ch/
English Website:https://www.kyoto-machiya-inn.com/
Japanese Website:https://www.kyoto-machiya-inn.com/jp/
MACHIYA RESIDENCE INN Kanazawa (Private Machiya Holiday Houses)
Chinese (Traditional) Website:https://www.kanazawa-machiya-inn.com/ch/
Chinese (Simplified) Website:https://www.kanazawa-machiya-inn.com/zh/
English Website:https://www.kanazawa-machiya-inn.com/
Japanese Website:https://www.kanazawa-machiya-inn.com/jp/
Accepting reservations now
TEL :        050-3786-2009(Domestic)    [10:00 – 19:00]
+81-50-3786-2009(Overseas)[10:00 – 19:00]
EMAIL      info@machiya-inn-japan.com
View All News